Summer is still with us and my inner caveman needs to be near fire, sticks and raw stuff every night.
( ok, and beer or wine or martinis..but mostly beer..ok, not always martinis or wine..I just wanted to sound classy)
Why is that?
Is it the great outdoors? The freedom of the backyard? The smell of freshly cut grass ?
Whatever it is…I'm taking advantage of the beautiful Long Island weather, the bounty of fresh basil growing in my garden and the massive bag of charcoal at my disposal and my obsession of having full propane tanks at al times.
To me, shrimp is my kryptonite.
Really, it is. I would do anything for a shrimp parmigiana hero, Buffalo Shrimp or even a grilled shrimp Caesar salad.
This recipe is one of my favorites and I'd say, an original.
Fresh simple ingredients make this a family favorite that I think you will easily fall in love with.
Fall in Love with the flavors, the sweet and savory basil pesto, the crisp char of the shrimp.
Fall in Love with the simplicity of the dish and Fall in Love with the rock star status you will have once your friends and family taste your homage to Summer seafood.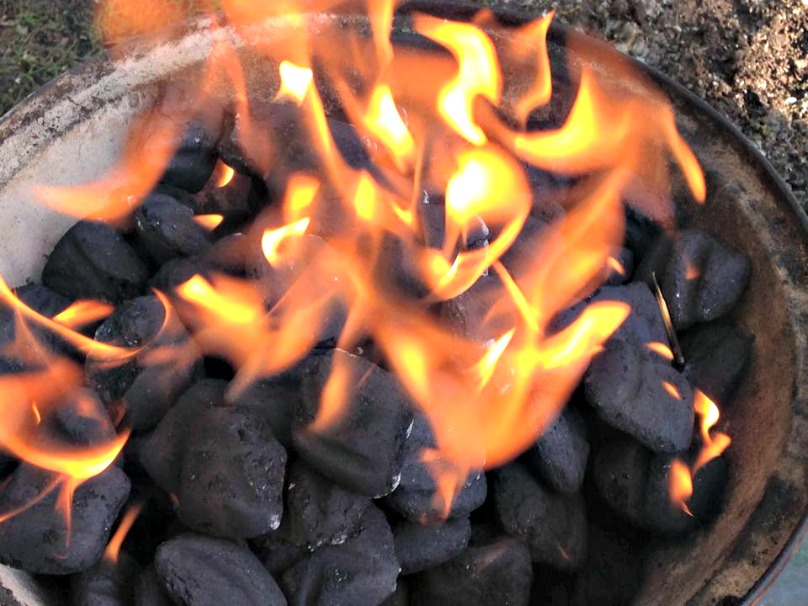 There is no "real" secret to mastering the BBQ.
You simply need to have passion, curiosity, a sense of adventure and lighter fluid.
Once your fire source is as hot as can be….you are golden.
I remember as a little boy, about 6 or 7, my family and I would vacation in this sleepy summer, surfing and seafood town at the end of Long Island, called Montauk.
Back in the 80's, it really wasn't too built up. In fact, it was quite a simple place.
You went to the beach in the morning, and once you were exhausted from the waves and became tomato red from the sun, you drank the last Tab in the styrofoam cooler, packed up your Papa Smurf towel, Solarcaine, boom box and headed back to the hotel to shower and figure out what and where to eat.
Usually it was to a restaurant, a deli or sometimes to a relatives house.
One grilling experience I will always remember was when we went to my Dad's cousin's house for a BBQ.
Hamburgers and hot dogs on the charcoal grill and RC Cola, with Ron Guidry from the Yankee's, adorning the can.
To this day, I can still smell the lighter fluid soaked coals and taste the super well done burnt hamburger hockey pucks and shriveled Oscar Meyer's that must have fallen into the coal, as they were chalky and dusty.
It's times like these, where I remember the smells and tastes from childhood, that I draw my inspiration from.
Do I want to walk down memory lane by burning cheap chopped meat? No. I just like to recreate memories and feelings that I had as a kid that were associated with food, while making new ones for my friends and family during the process.
Shrimp is so versatile and so easy to cook.
Experiment..and be creative.
This is what I will leave you with.
Oh, and also make double of what you were planning on making. People will want a doggie bag for lunch.
Endless Summer Pesto Grilled Shrimp
Course: Uncategorized
Ingredients
4 cups fresh basil leaves, packed and washed and dried with a paper towel

2 large garlic cloves, minced.

1/2 cup pignoli nuts, toasted until lightly golden, cooled and finely chopped.

1/4 cup extra virgin olive oil

1/2 cup freshly grated parmigiano reggiano

Sea salt and freshly ground black pepper to taste.

20 large raw shrimp, peeled and deveined.
Directions
Toast the pignoli, or pine nuts.
Simply place the nuts in a medium hot skillet without oil and stir the pan often for about 3 minutes until golden brown. Remove from heat, plate and let cool 5 minutes before using.
Combine the basil, pignoli nuts and garlic in a food processor and pulse until chopped.
Slowly add the oil, while the processor is on, and mix until smooth.
Pour mixture into a bowl, fold in the cheese, taste and add salt and pepper to taste.
Pour mixture onto shrimp in a bowl and toss gently. Let marinade for about an hour.
Lightly oil your grill grate to prevent shrimp from sticking and heat up to about 400-450 degrees.
Once your gas or charcoal grill is ready, place your shrimp skewers or non skewered shrimp on the grill and cook for about 1 to 1 1/2 minutes per side until they appear pink and cooked.
Notes
This basil pesto is a wonderful compliment to anything that you are grilling. Seafood, chicken, corn on the cob.. The list is endless. Also, mix it into your pasta or spread on crostini and sit back and enjoy the compliments.