Grilled chicken is a family favorite, oh so easy and so many ways to prepare it.
Technically, it's the still the Summer.  It's hot and nobody wants to be in the kitchen, especially when the weather is amazing, the birds are chirping and the sun is setting so perfectly in the sky.
Ok, it's not always such a bucolic setting in September here in New York, in fact the mosquitoes are out like frantic shoppers on Black Friday and the heat and humidity can be downright oppressive, but with this winning recipe, you'll be cool as a cucumber enjoying the good life whether you are dining in or outdoors.
There are so many ways you can add flavor to chicken to look like a rock star to your friends and family, but one of the easiest and most rewarding ways is by marrying  these  simple and delicious ingredients that I use to make my Grilled Lemon and Herb Chicken.
Family and friends are so important to me and I don't need to have any excuses to want to get people to come over and enjoy dinner and drinks on a nice night.
Sure, I'd love to think they would come over even if I served frozen pizza, but I secretly think it's the Summer inspired recipes that keep them coming back and not wanting to leave.
And all the free beer too.
Yeah, I forgot to mention the free beer?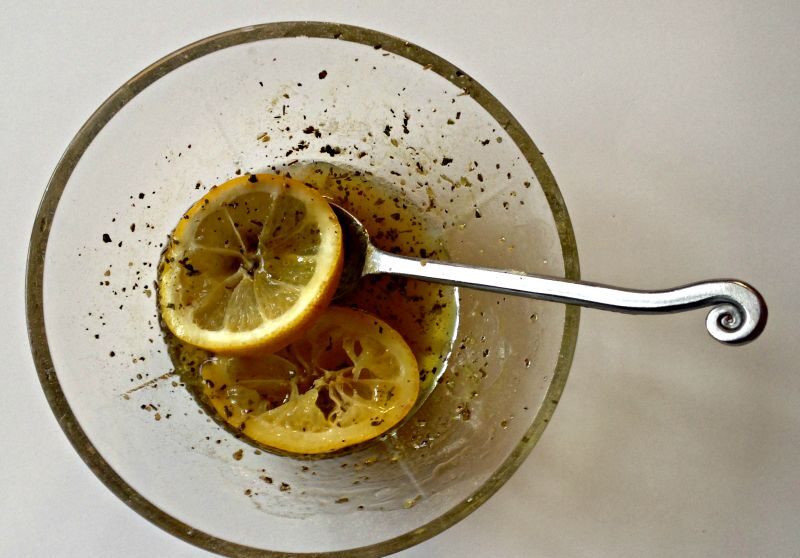 Looking for a fast and easy grilled chicken recipe that will rival anything ever placed before you? You're in luck.
Confident, I am…Yes. And you'll soon see why.
Perfect over a Caesar salad, in a quesadilla, on a bun with crisp iceberg lettuce, tomato and mayonnaise, this recipe is all about the marinade.
Quality ingredients like delicious ripe lemons, plump fresh garlic, aromatic oregano and sea salt will make your chicken the most flavorful and delicious one to come off a grill.
With the chicken at about 1/2 inch in thickness, you are sure to have a hit.
Can't cut your cutlets that small? Try pounding two pieces of wax paper.
Oh… wait a moment class.
Before you  leave, we need to quickly review the subject, Grilling Temps 101.
Now pay extra close attention to this part, ok? There may be a pop quiz later this week.
It's very simple and can be the difference with you being on the honor roll or sitting in the corner with a dunce cap on ordering Chinese take-out.
Some grills are hotter than a jet engine.My gas grill goes to about 750 degrees. Just because it does, doesn't mean I need to turn it up to the max all the time.
This high heat potential has it's place for certain types of cooking, but in this case, you don't want to go crazy hot here, since anything over 500°F can dry out the chicken breasts in a minute.
But…then again, on the other side, you don't want to cook over a heat that is too low either because you won't be able to brown the breasts properly and you'll end up with pale, boiled looking chicken on your plate.
A medium to medium high flame,  which is about 375-475°F, is great for resulting in a beautiful sun kissed crust without drying out and overcooking your bird.
Now with this knowledge you can get out there and grill your hearts out without drying that bird or under cooking it.
I hope that you enjoy this recipe for Grilled Lemon and Herb Chicken and much as I do.
Check out the full recipe below and…
Spread the Love!
Grilled Lemon and Herb Chicken. Summer Night Perfection.
Difficulty: Easy
The Most Moist and Delicious Chicken you will have All Summer Long!
Ingredients
1/4 cup Fresh lemon juice

2 Tsp Dried oregano

2 Tbsp Minced garlic

2 Tbsp Fine sea salt

2 Tsp Black pepper, freshly ground

1 Tsp Lemon zest, from 1 lemon

6 Tbsp Extra Virgin Olive Oil

5 Lemons, cut crosswise into 1/3 inch thick slices

8 Boneless, skinless chicken breasts (about 6-8 ounces per piece)
Directions
Whisk together lemon juice, oregano, garlic, 1/2 tablespoon salt, and 1/2 teaspoon pepper in a large bowl and add oil in a slow stream, whisking.
Discard excess fat from chicken and season with remaining 1 1/2 tablespoons salt and 1 1/2 teaspoons pepper.
Combine first 4 ingredients in a large zip-top plastic bag; seal. Marinate in refrigerator 2-5 hours, turning occasionally.
Remove chicken from bag; discard marinade. Sprinkle chicken evenly with salt and pepper.
Lightly oil your cooking grates and preheat your grill to medium high heat for about 10-15 minutes. If you do not preheat at this high temp for this amount of time you will almost always have a bird that stick to the grill and will come apart when you try to flip it. Learn from my mistakes.
With the grill OPEN, cook the chicken for about 3-4 minutes then give it a quarter turn on the same side to create those beautiful grill marks and cook for another 3-4 minutes with the grill top OPEN.
Now that your chicken has been grilling for about 7 minutes on one side flip them over an close the lid and do not open it for 5-6 minutes.
When you check your chicken it needs to be an internal temperature of 165 degrees. You do not want rare chicken or chicken sushi. If your temp reads about 160 or so take it off and let it rest on a plate covered with foil and it will continue to cook internally within the next few minutes, just check it.
Notes
If your breasts are larger than 6-8 ounces you will need to increase the time you grill them. If you are cooking various sized pieces then you may want to use indirect heating where you keep one side of the grill very low or even off so that the larger pieces can slowly cook and remain juicy while the thinner breasts cook on time. Again, always make sure that your chicken is atleast 165 degrees before serving.
Grill lemon slices on rack over coals, uncovered, until grill marks appear, about 3 minutes on each side, and transfer to platter with chicken.
Before putting your chicken on the grill, the overall experience will be much better if you start with a clean and nicely oiled grill grate. Your skinless breasts have skin so they have no fat to protect them from the high heat of the grill, which means that they will easily get stuck to the grate.