Sea Scallops are one of life's most decadent pleasures.
When I think of Sea Scallops I think of indulgence, opulence, luxury and well the price tag that comes with those things but it doesn't have to be that way.
Plump, juicy and with that perfect golden brown crust you will want make these again and again.
Perhaps you want cook that someone special an elegant dinner, or you're trying to impress her with you master cooking skills or you just want to make a delicious meal because darn it….you are worth it, then this recipe is exactly what you have been waiting for.
Year round, it's all about Sea Scallops on Long Island. Packed with protein, Vitamin B12 and omega-3 fatty acids, these big boys are not only delicious but they are good for too!
Read more

: Seared Montauk Sea Scallops
Many people are confused between the differences of Sea Scallops and Bay Scallops, but it's really simple.
Bay scallops are available in the Winter on the east coast and they are from the bays, as in the name. They are usually smaller like a gum drop about 1/2 inch in diameter. They are tender and sweet.
Sea scallops are found in deep waters and are harvested year round and are usually about 1 1/2 to 2 1/2 inches in diameter. They may be a bit chewier than it's smaller cousin but are equally as delicious.
You don't need to live on Long Island together great scallops as they are quite abundant in the Atlantic waters and believe me, fresh is better than frozen
When you get fresh scallops they appear to be a creamy color with a pink hue and should be moist but not thick and slimy. The meat should be firm and plump and should smell like the ocean, not strong and fishy.
With frozen scallops are often chemically treated and look bleach white and do not cook and taste as good as fresh but if you are buying them frozen always go for the best product you can find.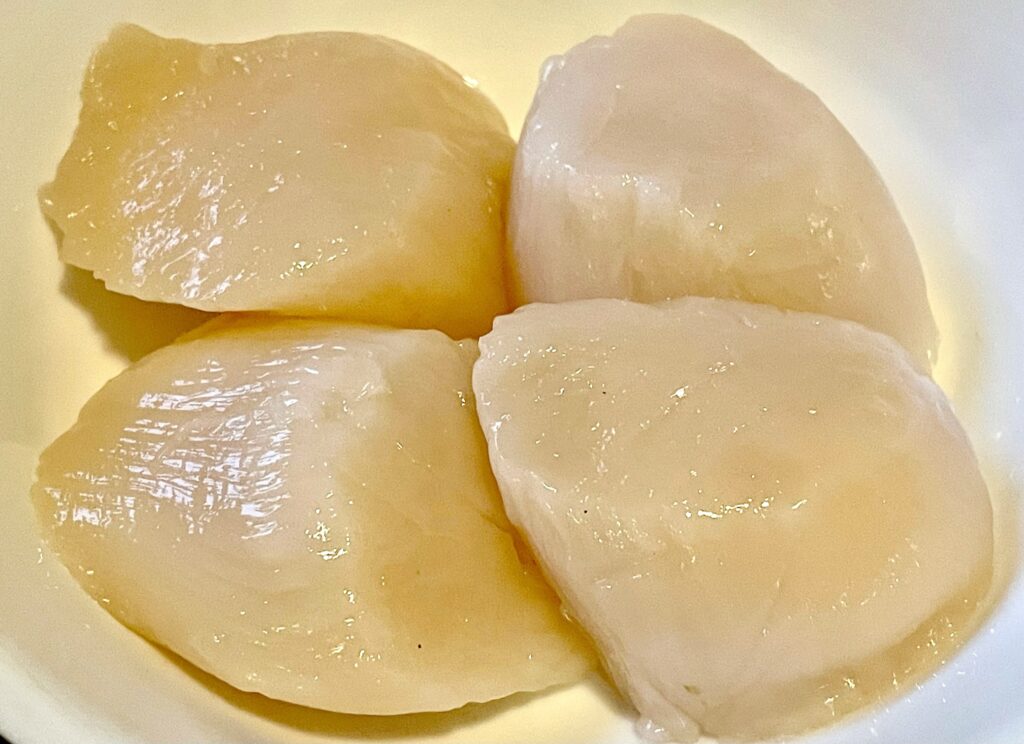 Pan seared is my favorite way to prepare these pescatarian lumps of love.
Seasoned simply with just salt and pepper this recipe will wow you with it's ease and delicious taste.
The key to making this dish appear that you did much more than you really did is to start them in a very hot pan, do not turn them until it's time and to finish them off with a little of the buttery pan sauce.
Now go get that cold bottle of Viognier or semi sweet chardonnay, a baguette and enjoy life.
Seared Montauk Sea Scallops
Course: Uncategorized
Ingredients
3 Fresh Sea Scallops

Sea Salt

Fresh Ground Black Pepper

Extra Virgin Olive Oil

1/2 Stick Salted Butter

1 Clove fresh garlic crushed, not sliced

1/2 tbsp Fresh Lemon Juice
Directions
Dry the scallops on a paper towel
Salt and pepper one side of the scallops
Heat up non stick pan on medium high heat and let get really for about 2 minutes
Add 2 Tbsp of butter, olive oil and one clove of crushed garlic clove to the pan
Add scallops to the pan seasoned side down and cook for about 2 to 2 1/2 minutes without flipping then turn over with tongs and season with salt and pepper.
Cook or about 2 minutes while basting with the butter, oil and garlic mixture turn off the heat, hit them with a squeeze of fresh lemon juice and let them sit for about 1 minute before cooking
Notes
Note: The larger the scallops the longer you may need to cook them. The sea scallops that I used were very big and had to cook this full time. Adjust accordingly.