Oh, to be asparagus: One of the most vilified vegetables of the bunch. Next to broccoli and Brussel sprouts, asparagus continues to be one of the most misunderstood and underutilized greens in the garden……but not for long.
We're taking it back to the top, gang.
That's right – no more shall we stand idly by and watch this beautiful nutrient power packed behemoth go overlooked! No longer shall we tolerate the squishy, limp, and bland presentation of a vegetable that was created to stand tall and proud! And no further shall we listen to cautionary tales of this beautiful spear making your pee smell funny. NO MORE!
The truth is that asparagus is one of the healthiest and most delicious foods, let alone vegetables, that one could possibly consume. The key is, however, obtaining it during the deceptively short window of availability and knowing how to cook it without destroying all the beauty in the glorious green rod. Would you like to join the Pro-Asparagus Revolution? Fantastic. Let's go over the basics:
Act Fast The window to buy tasty and nutrient rich asparagus is fleeting. Yes, sure, you can buy nearly every fruit and vegetable year round these days, however, doing so with asparagus can be terribly counter-productive. Asparagus is at its best in the Springtime, and those months can vary depending on your location. The best advice? Make friends at local Farm Stands and Markets. Purchase the freshest asparagus for the maximum flavor.
Let the vegetable speak for itself You don't need to get crazy with ingredients to get the most out of your asparagus. It can be grilled with a little olive oil and lemon and provide more decadent flavor than you could ever imagine. One of my favorite methods of cooking it involves letting the asparagus sit in a beautifully simple marinade of olive oil, garlic, and whatever fresh herbs I find in my garden. Let those sit around for a half hour to overnight and then cook on the stovetop, in the oven, or on the grill. No matter how you do it, you'll be blown away with the flavor.
Grill it Something magical happens when you give a slight char to asparagus. The natural sugars release and a beautiful crust appears on the stalk. A quick grill allows the asparagus to maximize the flavor while maintaining the crispness and bite. It is a simple, no muss, no fuss method for getting beautiful asparagus.
Join the revolution! Asparagus has been sidelined for too long! Purchase fresh, dress simple, and grill mightily, and you too shall aid in letting the proud asparagus once again stand tall. (And don't worry: Science has proven that asparagus only makes 35% of people's pee smell. The odds are in your favor.)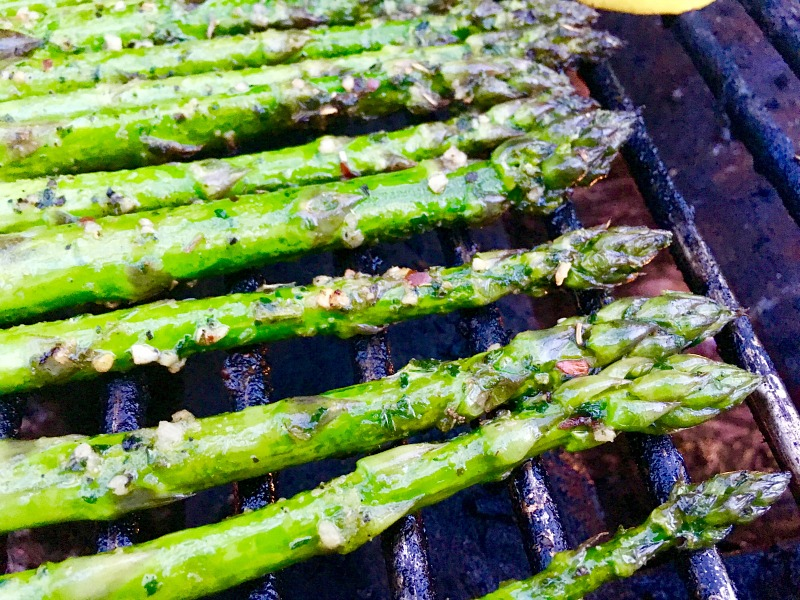 Grilled Asparagus. It's Ok to Drool.
Course: Uncategorized
Grilling weather is here so wash off the BBQ, get some fresh air and start grilling those veggies.
Ingredients
1 Bunch Fresh Asparagus

2 Small Cloves of Garlic

2 Lemons – juice one into a bowl and set aside. The other will be sliced into 1/4 inch coins for garnish and an extra squeeze.

5 Tbsp Extra Virgin Olive Oil

1/2 Tsp Dried Oregano

1/4 Tsp Dried Rosemary (minced)

1/4 Tsp Crushed Red Pepper

1/4 Tsp Sea Salt

1/4 Tsp Freshly Cracked Black Pepper
Directions
After you wash the asparagus, cut off the bottom, about 1 1/2 inches. Usually this is the hard and stringy part. Throw this out.
In a large sealed bag put in the garlic, lemon, juice from 1 lemon, olive oil, oregano, red pepper flakes, salt and pepper.
Seal the bag tightly and massage it. Yes, massage the bag.
Let it sit in the fridge for at least 45 minutes or up to 24 hours.
Heat grill to 350 degrees.
Place asparagus on grill neatly and cook for a total of 4 minutes rolling them over every minute. The objective is to get a nice caramelized char and not a dirty burn.
Place asparagus on a nice platter and garnish with lemon slices and hit it with a quick squeeze of lemon juice. Enjoy!