Summer.
My favorite season hands down.
The beach…
The pool…
Ice cold rose'…
Hampton's traffic…
and the hum of the air conditioner that lulls me to sleep.

Enough about me, let's get on to the cooking……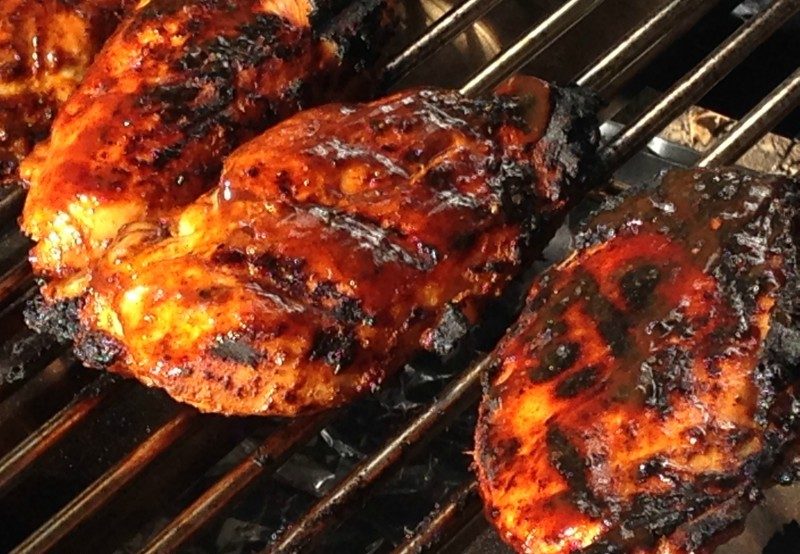 This is a simple chicken dish that will have you licking your fingers and leave you wanting more. Promise.
The way that this chicken is intended to be prepared is in a way that is stress-free, simple and inexpensive.
Many of the ingredients are most likely in your pantry…and if they are not..get them.
They are so versatile and most are inexpensive so no excuses.
With ingredients like brown sugar, smoked paprika and garlic…how could you go wrong?
That's right…you can't!
As you gently massage the chicken breasts with the spicy seasoning blend ….
… all of your earthly anxieties will dissipate.
… you will suddenly realize that you are much smarter and more creative than all of your friends.
And more attractive…ok, ok, ok, these "symptoms" will most likely not occur, however, you will realize that this chicken recipe could be the most awesome chicken that you have ever eaten.
True..test it out.
Summer Splendor BBQ Chicken
The neighbors will want to hop your fence as soon as they smell the amazing aromas from this beautiful bird.
Ingredients
4 skinless chicken breasts on the bone. ( aka, split breasts)

1 1/4 cups ketchup

1/4 cup apple cider vinegar

1 tablespoon worcestershire sauce

1/4 cup water

1 cup dark brown sugar

1/4 cup molasses

2 teaspoons smoked paprika ( Set aside 1 teaspoon for the rub)

3/4 teaspoon garlic powder (Set aside 1/4 teaspoon for the rub)

1/8 teaspoon cayenne pepper (Set aside for the rub)

2 teaspoons ground mustard

1 teaspoons kosher salt

1 teaspoon freshly cracked black pepper
Directions
THE DRY RUB – In a small bowl mix the paprika, garlic powder and cayenne pepper.
Carefully sprinkle both sides of your chicken breast with this spicy mixture and massage it into the meat, carefully as to not get any in your eyes.
Set aside for about 10 minutes to let the flavors set.
THE SAUCE – Combine all the ingredients in a medium size sauce pot.
Bring to a boil and then reduce it and simmer for about six minutes. By now all of the sugar should be dissolved.
Simmer until desired thickness is reached, but keep an eye on it closely, as it thickens fast and you don't want to burn it.
GRILL TIME – With your grill on high heat, place the skinless, seasoned chicken breasts on it for about 4-5 minutes then turn them about 90 degrees to make proper grill marks and leave for another 4-5 minutes.
Baste this "cooking" side with your bbq sauce.
Now turn your chicken over on the other side, baste with bbq sauce and with the grill's lid down, let them cook for about 5-6 minutes.
Repeat the same thing. Turn your chicken 90 degrees and baste again then close the grill top for 5-6 minutes
To test for proper temperature, take a meat thermometer and insert it into the thickest part of the meat, without touching a bone. When the temperature hits 160 degrees, it is done.