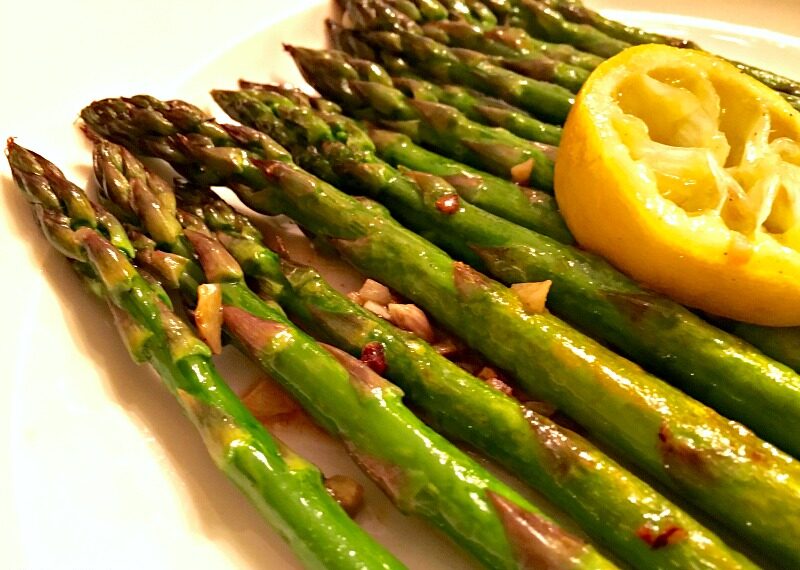 It's that time of the year again.
Asparagus Season!
I love fresh veggies, especially locally grown and asparagus is on the top of my list.
From late April to mid June, these beautiful green stalks of nutritious, delicious veggies are guests at my dinner table every week and should be on your table as well.
Besides the delicious flavor they have, asparagus are so versatile and very healthy.
Vitamin K, folate, calcium, vitamin C and vitamin B are the main players in this healthy performance.
Anti-Inflammatory agents, anti-oxidants, digestive support and anti-cancer benefits are also a huge plus when grilling up these bad boys.
For this particular dish grilled the asparagus in olive oil with garlic and lemon.
I found that by using organic lemon and Maldon seal salt….the flavors really popped and were more delicious than ever.
Whenever possible, go organic. Your palate and doctor will thank you.
Speaking of versatility…..
You can boil them, broil them, bake or grill…
Serve hot with rib-eyes or on a salad, so chill…
Eat with goat cheese, some beets, balsamic and oil…
But whatever you choose, eat within two days before they spoil.
Enjoy the Spring and eat your veggies.
Check out the full recipe below and…
Spread the Love!
Like me at…..
[yumprint-recipe id='37']